As you shop for siding for your home, you will find that there are many options. Should you select vinyl siding, or engineered wood? Is stucco siding the best choice for your area, or is it real wood?
Each of these materials can be the perfect choice – for someone. But, which one is right for you? To make the final decision, we have compiled this comprehensive guide on the performance of each material, the relative cost, maintenance expenses, and, finally, the versatility of the material.
In This Guide
Installing new siding can dramatically change the appearance of your home. Enhancing curb appeal, the transformation may make it easier to sell your property if you choose. Siding can also provide an extra layer of protection for your property. Loose, cracked or missing panels, shingles or other types of siding may enable moisture and insects to enter, which increase the potential for serious damage.
You can replace or upgrade your siding with an assortment of products, including vinyl, fiber cement, aluminum and wooden shakes, which can accommodate every budget, style of house and personal preference.
Average Cost: $3 to $7 per square foot.
Expect to pay $8,000 to $15,000 to install vinyl siding on an average two-story house.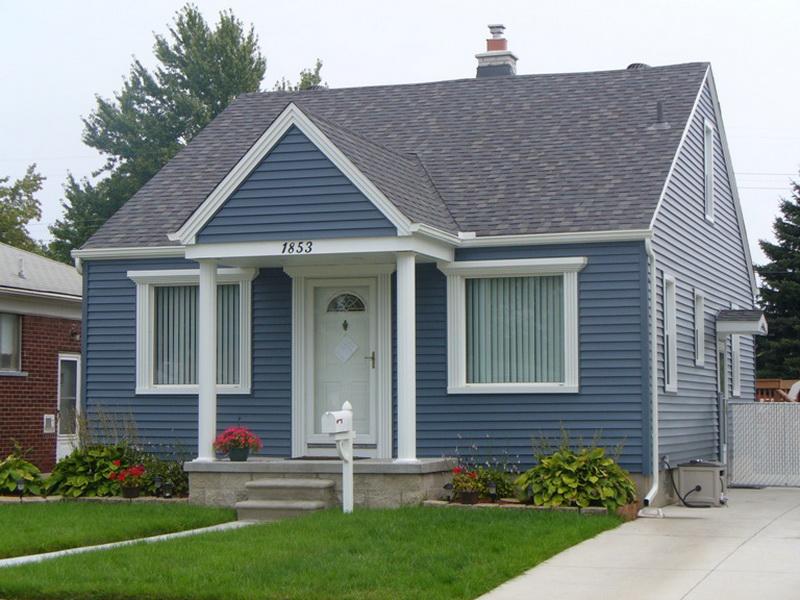 Boasting a 30 percent market share, vinyl siding has become the most popular cladding material in the country because of its low cost, versatility and low maintenance. An attractive option for budget-conscious homeowners, vinyl siding products offer an impressive combination of durability and color options.
Vinyl is the least expensive cladding material to install. You can further reduce the cost by performing the work yourself using a few tools that are available at home improvement stores. This makes vinyl ideal for individuals looking for a do-it-yourself product.
Because mistakes can be costly, ensure that you follow all manufacturer's instructions and take advantage of online how-to videos that explain the installation process.
Vinyl siding is available in a number of different profiles, including horizontal and vertical panels. Style options include Dutch lap, beaded, shakes and shingles as well as board and batten, fish scales and scallops. Widely used, vinyl siding continues to be one of the best siding options available.
Here are the pros and cons of vinyl siding:
PROS
Durable and may include a warranty lasting for 30-40 years after installation
Lowest cost option (depending on the grade of the chosen vinyl)
Available in hundreds of color palettes
Low maintenance because it does not require regular painting
Available in wood-like textures and styles, such as shakes and shingles
Impervious to rot and insect damage
Easy to clean with a pressure washer
Available in a variety of styles and materials, including insulated vinyl to increase energy efficiency
Insulated vinyl siding can raise your energy efficiency R-value from 2 – 5.5
CONS
Custom colors are not available.
Lower grade vinyl may appear cheap.
Does not appear wood-like when viewed up-close
Color may fade when exposed to sunlight for extended periods.
Although it is water-resistant, vinyl is not waterproof. Poor installation may allow water to seep behind the panels, which leads to mold and other issues.
May crack or melt under extreme cold or hot weather conditions
The color you choose is permanent because vinyl is not paintable.
Compared to brick or stone siding, hail, tree limbs and other objects may leave dents and gashes in the vinyl.
Can be difficult to successfully match a small repair unless you have extra material
2) Metal (Aluminum or Steel)
Average Cost: $5 to $9 per foot installed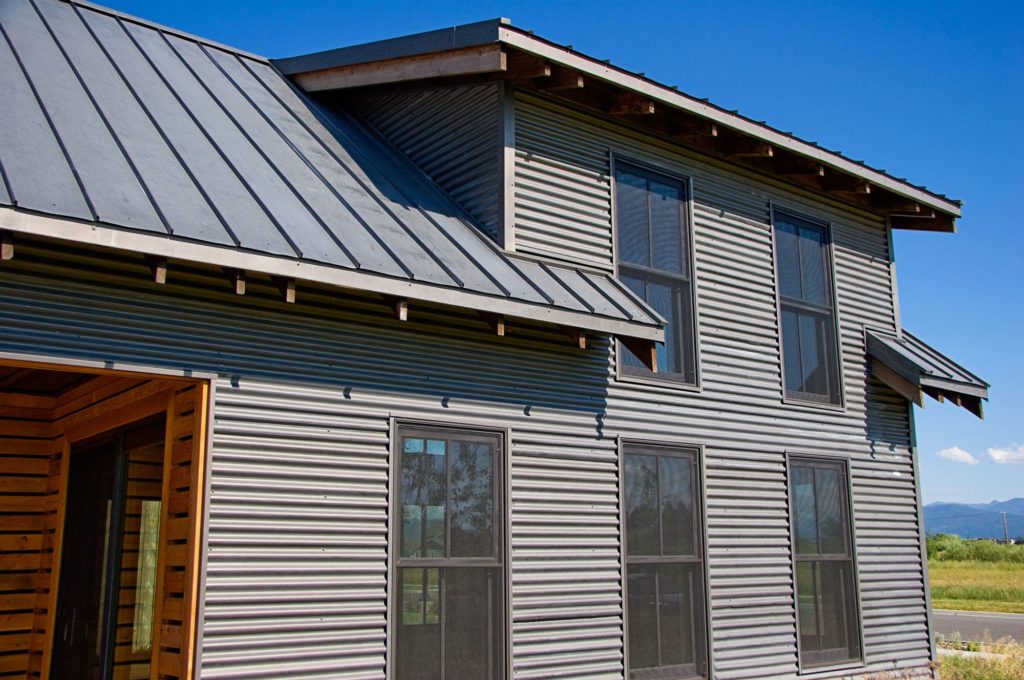 Although not commonly used, metal can be an excellent option for siding. It is mainly associated with contemporary and modern style buildings. Types of metal used include aluminum, copper and zinc as well as various steel alloys.

Metal can be formed to accommodate various required shapes, curves and edges. The strength and the longevity of metal surpass that of most of the common siding materials currently available on the market.
While the surface of copper and weathering steel will change when exposed to weather, metal will maintain its factory finish indefinitely. Aluminum siding is a popular choice in coastal areas because of the salty air. Although resistant to hail, steel is prone to rust.
PROS
Fireproof
Resistant mold, rot and insects
Low maintenance – usually does not require painting
Eco-friendly and green when made from recycled materials.
Each panel is precisely cut to minimize waste.
CONS
More expensive than other available options.
Steel can rust if raw edges are exposed because of improper installation technique or scratches on the protective coating.
Does not appeal to everyone as it may appear "shed-like"
Aluminum siding is a soft metal that is prone to dents from hail and other objects.
Aluminum siding is also more susceptible to fading, which makes it difficult to successfully match a small repair.
Steel siding is heavy and installation is time-intensive.
Average Cost: $5 to $10 per square foot installed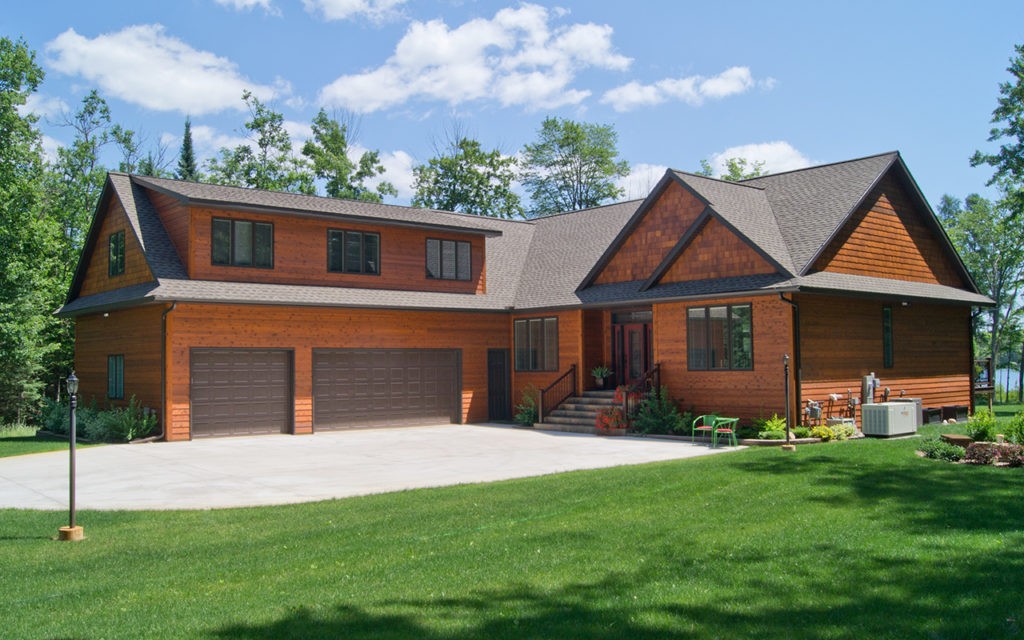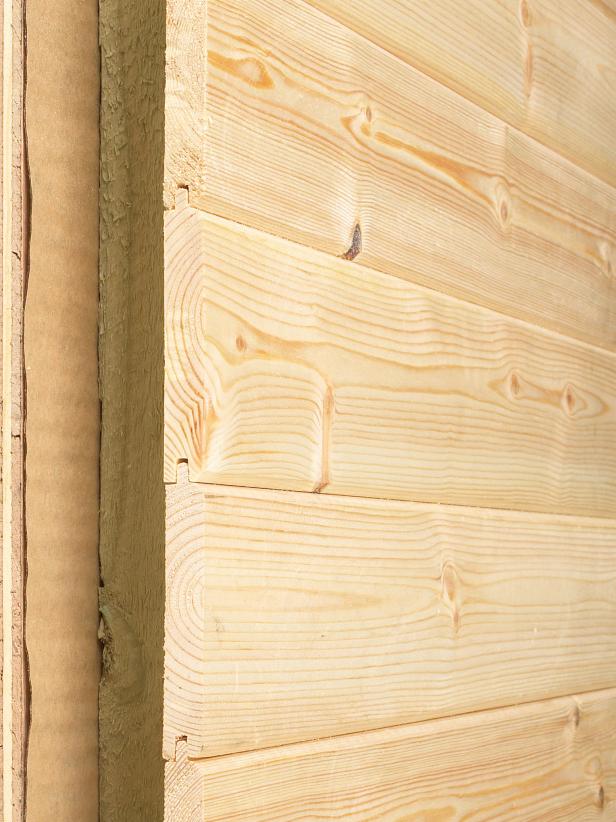 Natural wood shingles or clapboard siding offers a rich look and traditional charm if properly maintained. Wood is also one of the more expensive options available. It requires periodic maintenance, such as caulking and painting or staining to prevent weather damage.
In addition to rot, wood is susceptible to insects, rodents and other pests. Although it is resistant to impact, wood can warp, twist and burn. Depending on the level of maintenance, wood siding can last up to a century.
Wood siding is available in clapboard, also known as lap, as well as shingles and shakes. Clapboard siding consists of long planks of wood mounted horizontally with the upper piece overlapping the lower piece.
There are several species of wood from which to choose. Popular options include cedar, fir, pine, spruce and redwood. Western red cedar and redwood are prized for their attractiveness and durability. They are considered the best choices. While clapboard is less expensive than shingles, it generally costs more than vinyl or fiber cement.
Thinner than shakes, shingles provide a uniform, smooth, consistent appearance. Shakes and shingles can be cut into various shapes to add visual interest to your exterior. Some manufacturers offer shingles that have been treated with fire-retardant chemicals. This is often a requirement for buildings in high-risk settings. Check your local building codes.
Wood can be left natural, factory-primed or finished. Like fiber cement, factory finishes increase the expense, but they may last longer. It may also limit the number of available color choices. Even factory-stained or painted shingles and shakes require periodic refinishing.
Along with the type of wood, you will also have to choose the style of siding, which includes clapboard, shakes or shingles, board and batten or engineered wood. Prevalent in the Western United States, natural wood continues to be a top choice for homeowners due to its classic and timeless appearance.
Read More: 8 Best Wood Siding Types & Options
PROS
Easy to make small repairs compared to other types of siding that may require replacing whole panels and sides
Most natural looking
Multiple styles are available like clapboard, vertical boards, shingles and shakes to create a range of architectural looks.
Eco-friendly when made from renewable sources and is biodegradable.
Can be stained or painted in limitless number of colors. The color can be changed.
Wood siding is more energy efficient and has a higher R-Value than many other siding materials.
Lightweight, faster and easier install, which reduces labor costs
CONS
Can be more expensive depending on the type of wood chosen and the style used, such as individual shakes versus clapboards, which can increase labor costs
Requires additional maintenance compared to other siding. It must be stained or painted more frequently than other types of paintable surfaces. While stains last two to three years, the surface must be repainted every four to five years.
Susceptible to rot, insects and other forms of natural decay, cedar, redwood and some other woods have resist decay.
The cost of continued maintenance can add up and should be included in the budget.
Flammable unless it is treated with flame-retardant chemicals
Average Cost: $4 to $8 per square foot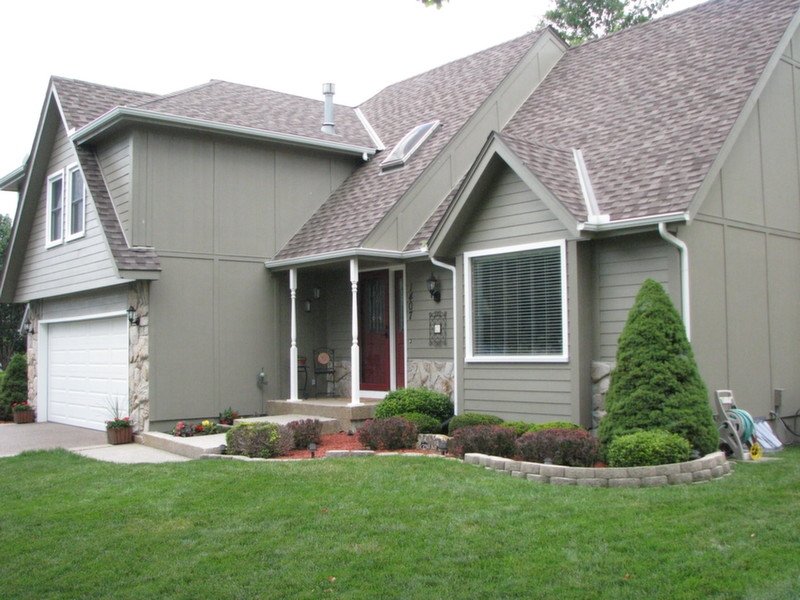 A blend of cement, sand and cellulose, fiber cement offers the look of masonry, stucco or wood at a lower cost, which can be comparable to vinyl in some cases. Fiber-cement siding has become a popular siding choice because it is low-maintenance, non flammable and termite-resistant.
Available in a range of styles and textures, fiber cement is typically factory-primed. It can be ordered pre-painted for an additional price.
While the color selection may be limited, factory-installed coatings last much longer and may be warranted for 25 years. Although less often than wood, fiber cement must still be refinished periodically even when factory-primed or pre-painted.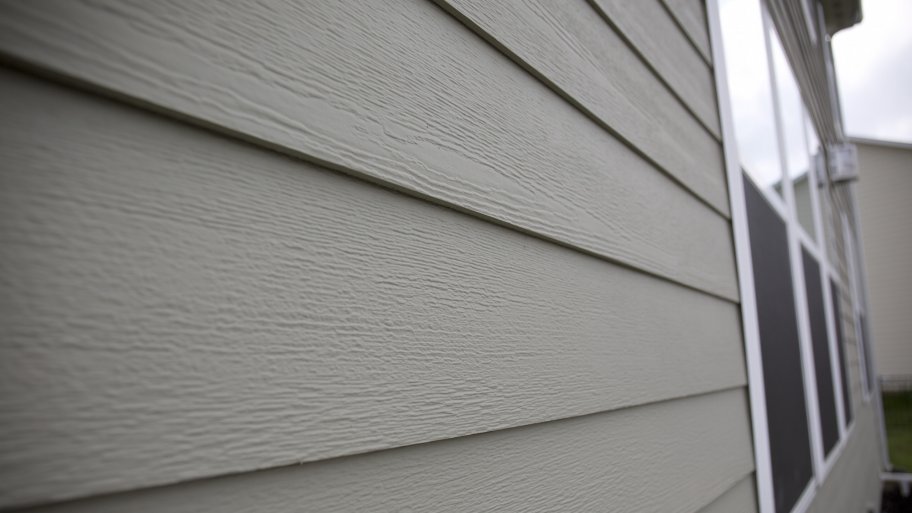 Fiber-cement siding can suffer moisture-related problems as well as water damage during freeze/thaw cycles if not properly painted. Homes built before the late 1980s may have siding that contains asbestos, which requires removal by a professional abatement contractor.
PROS
Manufactured to replicate the look of conventional wood siding like lap and shakes.
Fiber cement has a class 1A fire rating making it extremely fire resistant.
Durable product that is impact resistant, will not rot and is impervious to pests
Does not expand and contract as much as wood or other materials, which enables paint to adhere longer
Easy to maintain and may be guaranteed for up to 15 years not to fade or chip
Some products may have longer 50-year warranties.
Available in many textures and colors
CONS
Product is heavy, cutting produces lots of dust, installation can be more challenging.
Typically two to three times more expensive than vinyl
Has to be repainted every 12-15 years, which is less often than wood
In rare instances, it can delaminate.
Color is applied to the surface only. Touch-up painting is required for chips and other damage.
5) Stucco
Average Cost: $9 to $12 per square foot.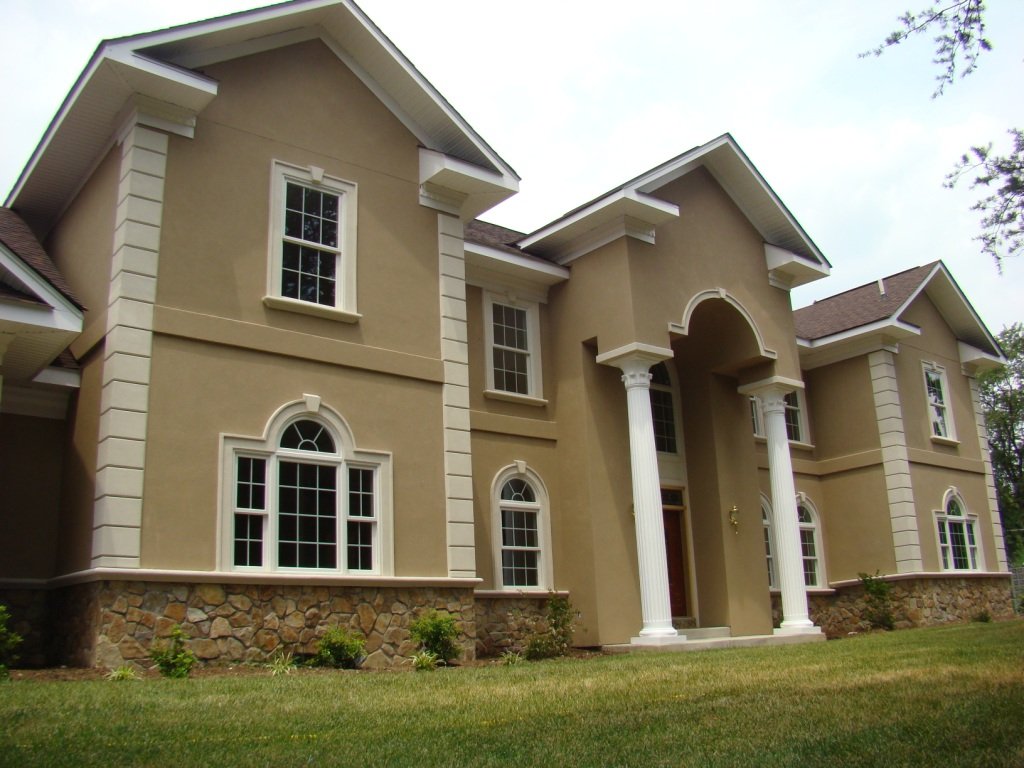 Traditional stucco is made from Portland cement, building sand, lime and water. Along with a waterproof barrier, a galvanized-metal screening is applied over the wood walls that receive the stucco plaster. This provides a base for the stucco to adhere to as well as protection for the walls underneath.
It can be applied on bricks and blocks as well as metal laths, a wire mesh sheet. Stucco serves as a weatherproof coating, which protects a wall's structure.
While stucco can be applied to homes with brick and stone surfaces, it is commonly applied to Mediterranean, Ranch and Spanish Mission-style exteriors to create a classic look. There are several finishing options.
Smooth stucco is the smoothest of finishes and may have some slight texture: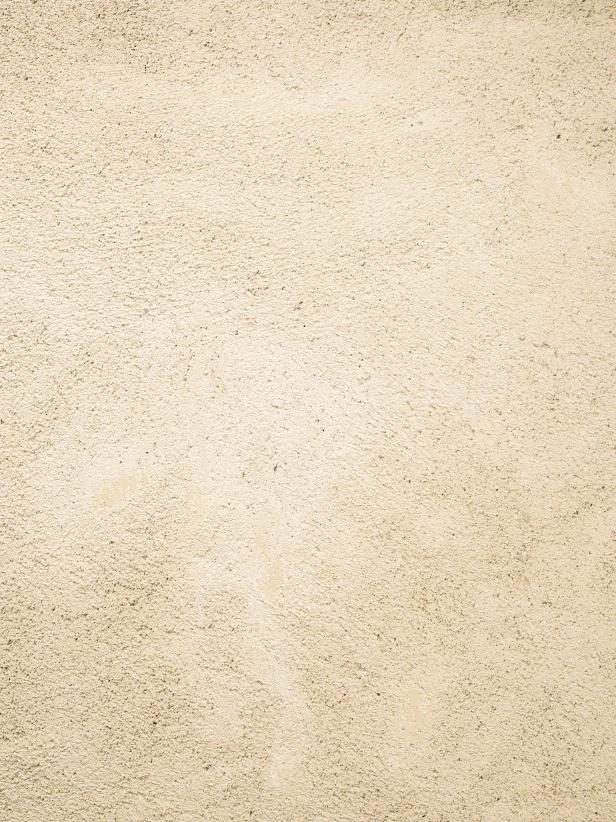 Patterned stucco is tooled to produce various designs in the surface:
Rough stucco has a uniform coarse finish applied over a layer of smooth stucco: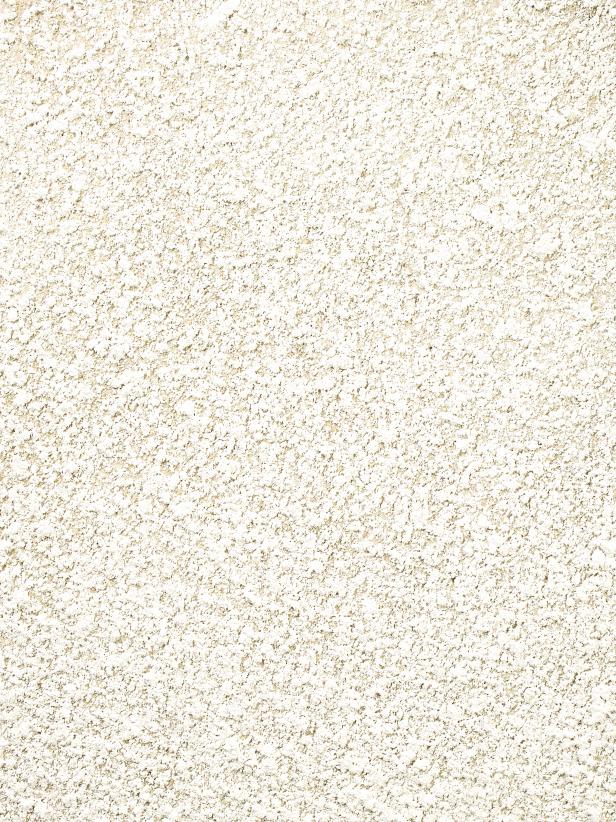 A Pebbledash finish is performed by tossing pebbles against moist stucco: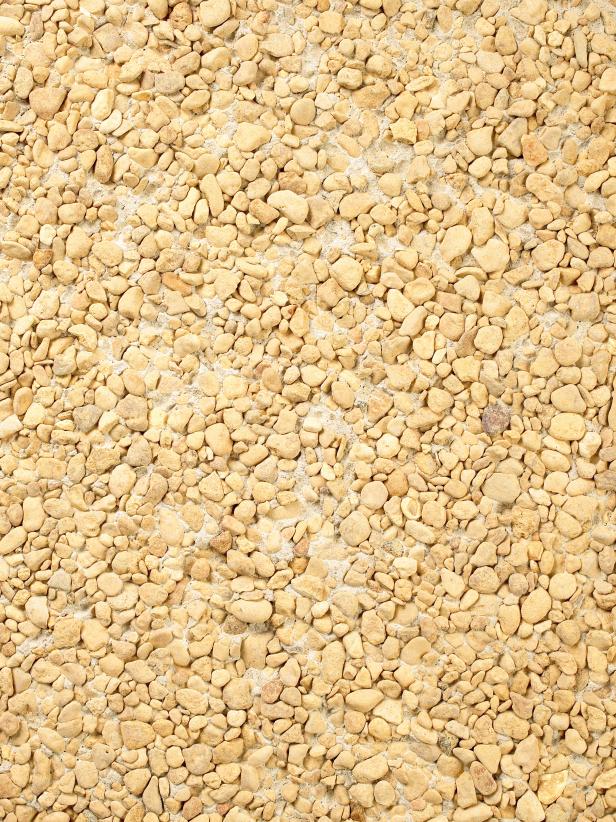 Careful installation helps reduce the possibility of unwanted cracks in the rigid surface. Stucco can last the lifetime of the home when properly installed and maintained.
PROS
Traditional stucco is durable and long lasting.
Requires minimal maintenance other than checking for cracks and periodic cleaning
Quick and inexpensive to repair small sections
Can be mixed to the specific color you want.
Fire and insect resistant
Allows for more complex shapes, forms and architectural details on the home's exterior
CONS
Costs more than vinyl and fiber cement
Requires experienced professional installation
Traditional stucco can crack as the home settles or expands and contracts because of temperature changes.
Weathering and dirt are more evident.
Not as water-resistant as brick or vinyl during heavy rain
While it is possible to paint stucco to change colors in the future, the finish must be sandblasted off.
Installing Stucco
Because advanced plastering skills are required for a professional looking finish, applying stucco to large walls is not a job for an amateur. Unless you have extensive experience, hire someone to do the work. The process may require several coats, including an initial scratch coat as well as one or more top layers to create the final finish.
Because it can seriously affect how well the product adheres, stucco should not be applied during periods of extreme weather conditions. This can reduce its lifespan.
For less experienced DIY homeowners or the novice who wants the look of stucco, EIFS is an option. Made in panels, EIFS has a finish similar to stucco and easier to install. It does require careful flashing that should be installed by a professional.
6) Brick
Average Cost: $13 to $20 per square foot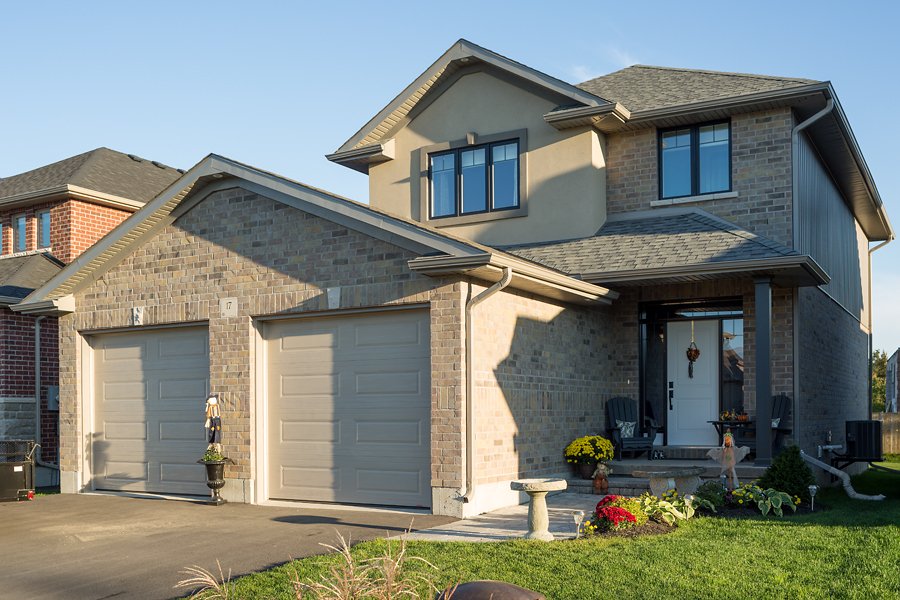 Made from fired clay, genuine brick is available in different textures and sizes. It has provided a beautiful look that has stood the test of time for hundreds of years. Brick is commonly found on Colonial, English cottage and Tudor style exteriors.
Today, brick siding is usually a veneer constructed around the outside of a home's wood frame structure. Mortar holds it in place. Installing brick is labor-intensive, so it costs significantly more than many other siding options. Brick siding is popular because it can last a lifetime under normal conditions when it is installed correctly.
PROS
Available in numerous styles, colors and textures
Very durable and can last a lifetime
Low to no maintenance
Resistant to extreme temperatures, moisture, insects and fire
No need for painting or staining
Weathers beautifully, will not fade, rot or decay
CONS
Expensive
Can require additional structural support because of the added weight
Requires professional installation
Difficult to change colors in the future
Mortar joints may require repointing or replacement.
Labor intensive, time-consuming installation
7) Stone
Average Cost: $15 to $40 per square foot installed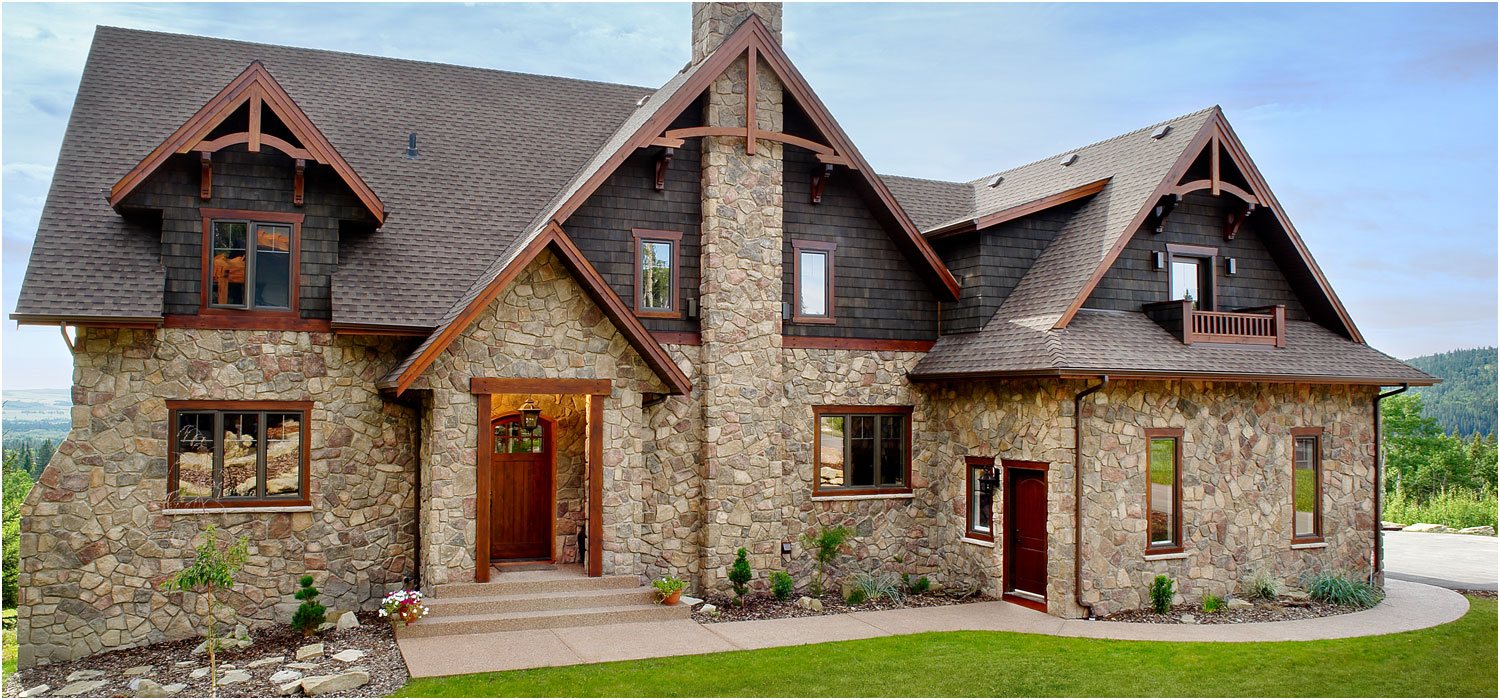 Like brick, stone is durable, low maintenance and available in a wide range of colors, textures and sizes. Stone can be adapted to create a variety of looks. Granite, limestone, slate and other types of stone materials are beautiful and nearly impervious to the weather.
Created naturally, stone siding is eco-friendly and features numerous everlasting advantages. The natural beauty and durability of stones, such as granite and limestone, appeal to homeowners who want a siding that adds texture and visual interest to their exterior.
In most cases, the initial cost of stone materials is more than that of other types of siding. It can be considerably more. Because creating a stone exterior is very difficult, homeowners should hire an experienced professional, which adds to the cost of the project. The advantage of a stone exterior is that it requires little to no maintenance and will remain natural and attractive decades after it is first installed.
Less expensive and lighter in weight than entire stone pieces, stone veneer siding is available in natural and synthetic, or faux, materials made from concrete that mimic the appearance of real stone. It is often made from thin slices of actual stones. Because the weight is relatively light, it does not require additional structural or foundational support.
PROS
Nearly impenetrable and will last a lifetime
Unrivaled look and feel
Resistant to extreme temperatures, insects, moisture and fire
Available in many styles, colors and textures
Requires little or no maintenance
Stone veneer provides a stone-like look for about half the cost.
CONS
Expensive
May require additional structural support due to added weight
Requires professional installation
Labor intensive, time consuming installing
Over time, mortar joints can deteriorate. This requires periodic inspection to maintain joint integrity.
8) Fiberglass
Average Cost: $9 to $12 per square foot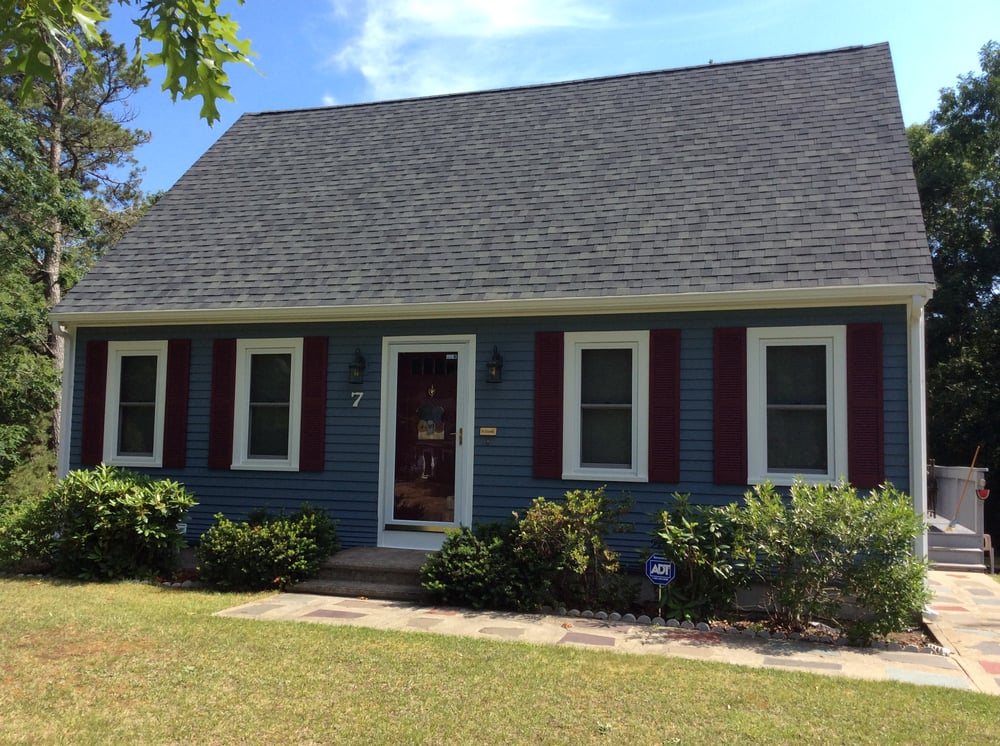 A relatively new siding product, fiberglass is a durable material. The main product is called APEX® and is produced by an affiliate of the Marvin Windows and Doors Company. Rather than the fibers used for insulation, it is molded as a very rigid material with the strength and durability to last for a very long time.
The APEX system uses Ultrex®, a pultruded fiberglass material developed by Marvin®. Pultruded fiberglass that has been used successfully in residential windows for several years. Pultruded refers to the way in which the fiberglass is manufactured.
PROS
Caulk-free installation eliminates the future need to touch-up caulk and paint
Rigidity allows for longer spans of material, minimizing or eliminating seams
Wood grain texture is subtle, offering a more delicate grain look compared with that of fiber cement or vinyl
Provides a crisp, defined appearance; emulates the realistic look of wood lap siding
CONS
Few available colors
Newness of this product in the marketplace bears the consideration of its long-term effectiveness and color retention.
What Kind of Siding Do You Prefer?
What Type of Siding Does Your Home Have?
Siding Comparison Table
| Type | Cost Per Sq. Ft. | Durability | Maint. | Colors | Styles | Install |
| --- | --- | --- | --- | --- | --- | --- |
| Vinyl | $3 to $7 | 25 to 40 years | Low | Many | Many | Easy |
| Aluminum | $5 to $9 | 30 to 50 years | Low | Many | Few | Easy |
| Wood (Cedar) | $5 to $10 | 15 to 25 years | High | Many (Stain or Paint) | Few | Easy |
| Fiber Cement | $5 to $9 | 25 to 40 years | Moderate | Many (Paint) | Few | Easy |
| Stucco | $9 to $12 | 15 to 40 years | Low | Many (Paint) | Few | Easy |
| Brick | $13 to $20 | 50+ years | Low | Few | Few | Moderate |
| Natural Stone | $15 to $40 | 50+ years | Low | Several | Many | Difficult |
| Stone Veneer | $10 to $15 | 25 to 40 years | Moderate | Many | Many | Easy |
| Fiberglass | $9 to $12 | 25 to 40 years | Moderate | Many | Few | Easy |
| Log | $7 to $19 | 50+ years | High Maintenance | Few | Few | Difficult |
Cheapest Siding
At $4 a square foot, vinyl siding is far more affordable than wood or engineered wood siding. That being said, metal siding is a good, solid second place in price.
Of all the siding options, metal siding costs less to install than the others. In some cases, the metal strips can be applied on top of the existing siding, which saves the removal and disposal fee. In addition, metal siding requires fewer tools for installation.
Most Energy Efficient Siding
Stucco is the most efficient siding product. While the other types of siding are also good, nothing can beat stucco for protecting a house in the hot sun. It keeps the cool air in and doesn't absorb heat the way brick does.
Metal is very efficient, but is closely followed by vinyl. Both of these materials are used in other industries as insulators. In cold climates, metal does better than vinyl, but heavy gauge vinyl does provide extra insulation.
Wood has limited efficiency and effectiveness when it comes to making your home more energy efficient. It is edged out by engineered wood, which handles temperature extremes quite well. Both engineered wood and wood siding require regular treatment with waxes, stains, or resins to keep the moisture out.
Most Environmentally Friendly Siding
Wood is considered to be the most environmentally friendly siding. It is a renewable resource straight from nature, and it is recyclable. Of all the woods used for siding, cedar is the most popular choice. This is because it is more lightweight, therefore uses fewer resources for transportation.
The Sustainable Forestry Initiative and the Forest Stewardship Council both work to make sure that wood is harvested in a responsible manner.
Lowest Maintenance Siding
Vinyl siding comes in first place here, because it requires virtually no maintenance. It doesn't dent, so it is quite durable. Metal siding also doesn't require much maintenance, other than an occasional power washing or coat of paint. However, it will get dents in it from hail or foot traffic.
Stucco does require maintenance, since it is rather brittle. If it gets a hole in it, it must be patched before water gets into the wall. Water will ruin the stucco if it gets behind the wall. However, besides holes, stucco is very durable.
Wood and engineered wood takes little to no daily maintenance. It never dents. In fact, dents and scratches eventually pop out because the fibers of the wood expand and contract. But, every four to six years, you will need to power wash it and re-stain it. This will preserve the wood and keep it in good condition. This will be an additional expense of $700 to $2,200. The siding contractor will have to consider the size of your house, the square footage of wooden siding, and whether or not there are multiple stories.
Most Durable Siding
Stone or brick siding are, by far, the most durable of all siding options. In fact, they can last for centuries. They are also the most expensive types of siding.
Metal siding is quite durable, except for the denting problem. If you paint it, will last longer. Aluminum is the best siding for houses near the coast, because the salt air doesn't affect aluminum. Also, even if the metal gets dents in it, it won't break unless it has a collision with a falling tree or moving car.
Most Versatile Siding
Vinyl and engineered wood are the most versatile thanks to the many options regarding the width of the planks, colors, styles and textures available.
How to Choose – 7 Factors to Consider
Choosing the right exterior material depends on several factors, including your lifestyle, climate and budget. You should check the manufacturer's guidelines as well as local building codes to ensure that your preferred material performs well over time.
When evaluating materials, consider the following criteria to determine which is best for your specific application:
1) Water Resistant
Some types of cladding materials provide more water resistance. These types of siding generally have longer life spans because they are less affected by persistent moisture.
2) Energy Efficiency
Each type of siding material has an R-value that measures its ability to impede thermal transfer. Insulated vinyl, for example, has a higher R-value than traditional stucco.
3) Aesthetics & Texture
The color and texture of the siding determines its overall appearance. While brick or stone have limited color options, they offer a variety of textures. Conversely, vinyl siding has limited textures, but it offers a wide assortment of colors.
4) Versatility
The structure and architectural style of your home and exterior will also play a key role in the type of siding you should select. While vinyl siding is suitable for modern homes, historic buildings may require stone or natural wood products for the best exterior appearance.
5) Eco-Friendly
If you are concerned about the environment, there are several eco-friendly options available. These include fiber cement, which is made from sand, cement, clay and wood pulp fibers.
Others products, such as wood, are naturally biodegradable and come from sustainable sources. Green siding also refers to the energy efficiency of the material and their ability to conserve the energy required to heat or cool your home.
6) Durability
In addition to how long it should last, determine the level of ongoing maintenance required, such as how often it should be painted. Evaluate the materials level of resistance to decolorization, decomposition and insects.
7) Cost
Depending upon the materials and complexity of the installation process, a siding project can cost anywhere from $5,000 to $50,000. Prepare a realistic budget beforehand to accurately determine what you can afford. Check out our siding calculator to determine the approximate cost.
What to Consider Before You Buy
Purchase the Correct Amount
A contractor will calculate the amount of siding required complete the project. To avoid the risk of overpaying for the job, you can make a rough estimate of the materials needed without climbing a ladder.
Use the following formulas to determine the surface area of your home:
First, multiply the height times the width for each rectangular section of your house in feet based on what you can measure from the ground.
Next, multiply the approximate width and height of triangular surfaces like gables and divide each product total by two. Add the totals of your calculations.
To allow for waste, do not subtract for doors, windows and other areas that will not be covered. Finally, divide the total square footage by 100 to estimate how many squares of siding you will need. A square represents 100 square feet.
Ensure Proper Installation
It is recommended that a professional install your siding. If your old siding is in good condition, the new siding can be installed over it. Rotted wood siding should be replaced and the wall behind it can be inspected for damage. This could save you thousands of dollars in structural repairs later on.
If the old siding is removed, place a moisture barrier underneath the new siding. Attach flashing around windows and doors. Ensure that the fasteners are attached to the wall studs. The installer should center the fasteners in the slots and leave a gap between the panel and the fastener heads to allow for expansion and contraction.
Make It Last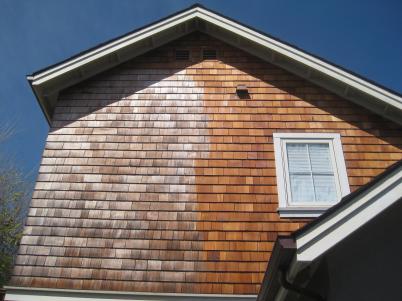 Simple maintenance and repairs will extend the life of your siding. It is susceptible to leaks, especially where it meets windows and doors. A $5 tube of caulk can save you thousands of dollars in repairs.
If you live in a region with cold winters, inspect the siding under the eaves for water stains. This can be a sign of ice damming. Sealing any gaps around pipes and ducts as well as increasing attic insulation may help prevent future damming along with lowering your heating and cooling bills.
Regulations and Permissions
The building codes covering exterior alterations vary from area to area. There may also be restrictions for buildings located in a historic district. Begin your planning by checking with your local authorities and homeowner's association for any permit requirements. You may be restricted to certain types, textures and colors of siding.
What to Read Next
Over to You
We're interested to know – what type of siding are you leaning towards and why? Let us know by leaving a comment below!