The country's top-selling exterior building material, vinyl siding is engineered to resemble natural wood, yet available in a variety of styles. Using modern manufacturing techniques, vinyl siding companies engineer a wide assortment of products.
Homeowners can combine different types, colors and styles to create a look that reflects their individuality and improves curb appeal. With endless looks, the challenge is knowing where to start. This guide walks homeowners through types of siding, helping you make the best choice for your new look.
In This Guide
3 Primary Types of Vinyl Siding: Vertical, Horizontal & Shake

The first choice comes down to three essential types of vinyl siding: vertical, horizontal and shake/shingle. Within each of these categories, there are several different styles.
Each type of vinyl siding is available in different lengths, textures, and thickness, as illustrated below, and the price can vary accordingly. The options may seem overwhelming, but after reviewing what's available you will be better equipped to work with your contractor and bring your vision to life.
8 Styles of Vinyl Siding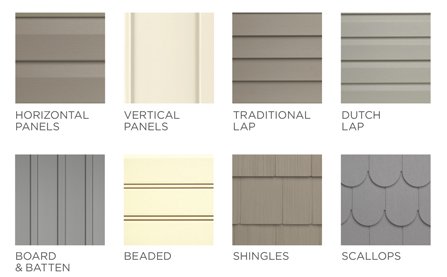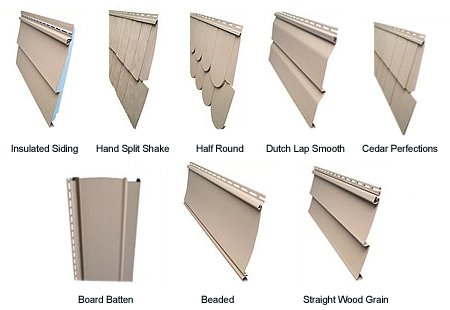 Horizontal Lap / Clapboard Siding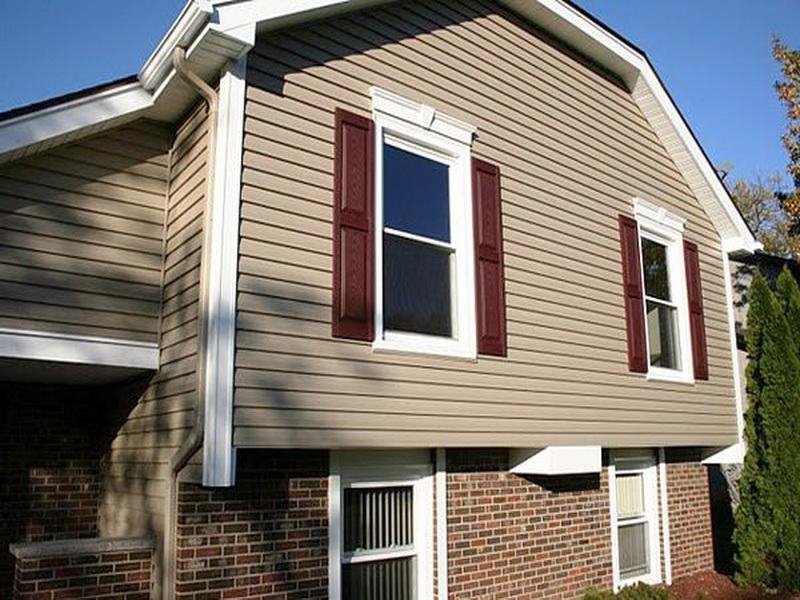 1) Traditional Lap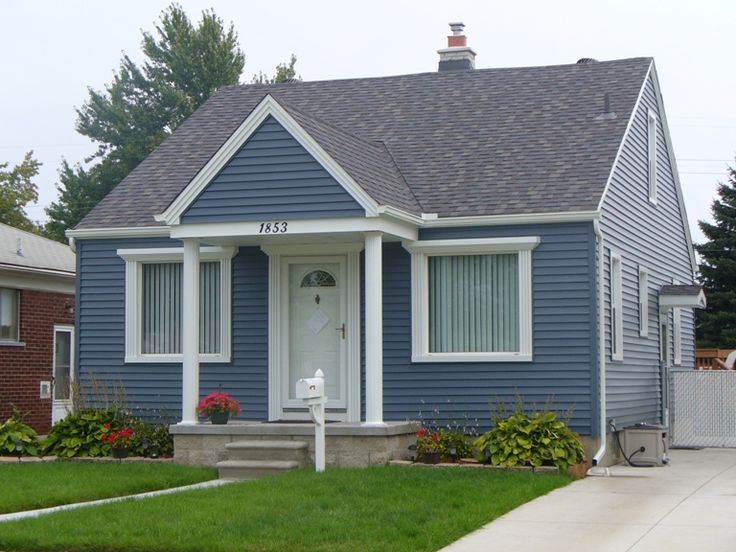 Lap, or clapboard, siding utilizes long, broad planks. These are designed to overlap one another, so that each piece covers a portion of the one below. Viewed from the side, each piece of lap siding has a wedge-shaped profile with a narrower edge at the top. It appears to widen toward the bottom as it extends to cover, or overlap, the narrow top portion of the lower plank.
Overlapping the boards is not only an aesthetic choice, it comes with practical advantages. This design enables the siding to shed water efficiently. The siding serves as the first line of defense, preventing water from entering the interior of your home or other structure.
Although they appear similar, and the terms lap and clapboard are used interchangeably, lap-style siding is technically wider than clapboard siding.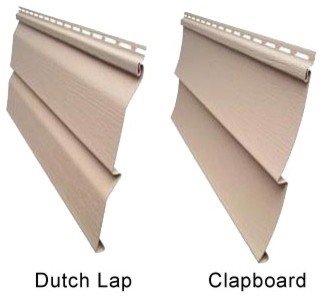 2) Dutch Lap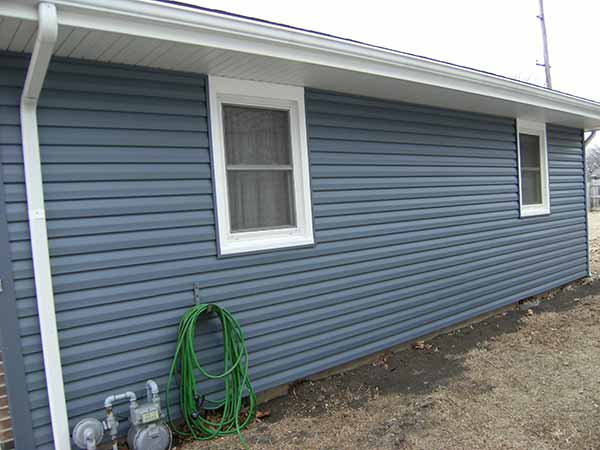 A variation of lap siding, Dutch lap siding provides an alternative look. While the boards are still designed to overlap, yet do so at a sharper and steeper profile angle. This creates troughs between each of the overlapping boards, accounting for the differing appearance.
Dutch lap siding is designed to replicate the look of hand-carved wooden planks. This illusion is achieved by a bevel cut near the top of the panel, giving it the appearance of depth. The recess provided by the height of the overlapping panel and the beveled edge creates a shadow line. The end effect is a smooth, clean line where the panels overlap.
In the past, Dutch lap was considered a premium siding style and the look was associated with wealthier homes. Prior to vinyl siding, when using wood planks, the Dutch lap was more labor intensive and difficult to make because it took longer to carve each wood plank.
Dutch lap is available in a wide range of profile options. The bevel can also be cut with different types of details to modify the siding's visual effect. Double 4-inch and double 5-inch lap are the most popular styles.
3) Beaded
The beaded look is yet another horizontal siding style. Each panel used has a rounded groove or notch running along the bottom, creating a unique shadow line. As with the Dutch lap, the groove had to be hand-carved in the past. As a result, beaded siding took longer to make and cost more to produce. Its use was an outward sign of the homeowner's wealth.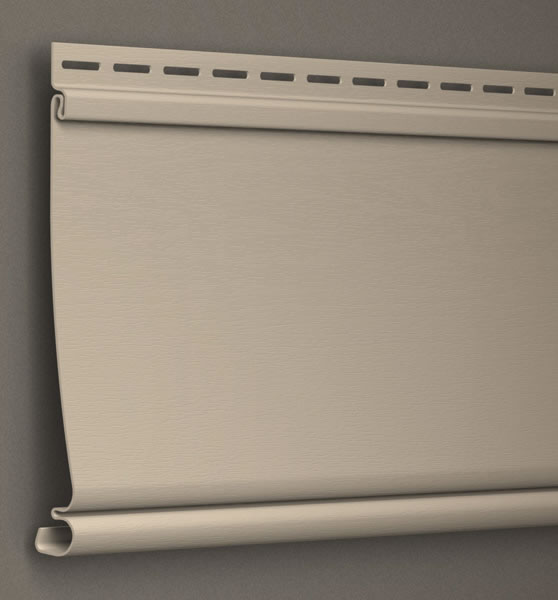 Traditional lap, Dutch lap and beaded siding can now be simulated with vinyl siding products, mimicking the natural appearance of wood. These larger sheets are installed as a single piece instead of individual boards. This lowers the overall cost while providing a uniform appearance and maintaining the desired look.
4) Log Siding
Many home or cabin owners desire the rustic look of the log cabin without the expense and maintenance required when building with real wood. This is provided through siding products that replicated the appearance, including grain treatments that mimic the look of authentic woods such as pine or cedar.
While maintaining the look, siding provided several advantages over natural wood. Artificial log cabin-style siding do not splinter. It also resists mold and insects. The vinyl panels hold their color better in direct sun and harsh weather than natural wood products. Log style panels are usually thicker than standard vinyl siding, which increases their strength and durability.
This siding style can be used in urban and suburban communities, but is also a popular option in more isolated or rural areas. Log siding offers the unique look of a natural log home without the higher costs associated with installing and maintaining wood.
Vertical
Originally used on farmhouses and barns, the use of vertical siding has now expanded to many styles of homes. It is still commonly installed on nonresidential structures, such as barns, tool sheds and office buildings.
Compared to horizontal siding, installing vertical siding is more time consuming and does require additional prep work. Horizontal furring strips are used beneath the vertical siding during the installation process in order to create a smooth, level surface.
5) Board and Batten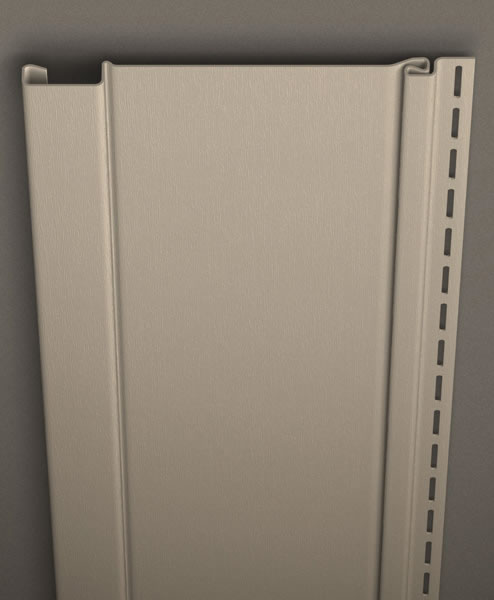 A batten is a long, flat piece of metal or wood that is used to secure something in place or fasten an object to a wall. Board-and-batten siding is an exterior treatment option in which the long vertical boards are attached to the home by battens that also cover the seams.
Shingle & Shake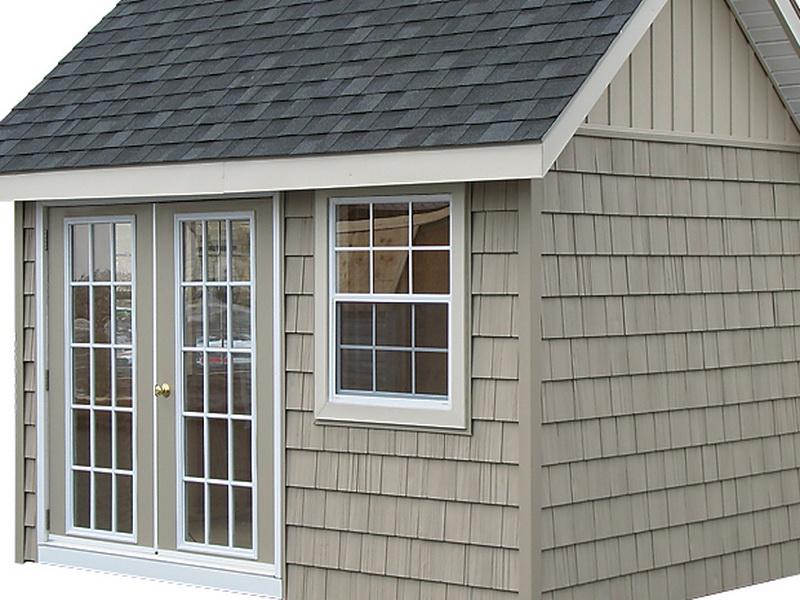 A favorite of architects, authentic shingle and shake siding can be used to create a unique accent or for the whole of a home exterior. Vinyl options offer the look, color and texture of shakes and shingles at a reduced cost.
6) Half-Round or Scalloped Shakes
Often used on gables or historic homes, half-round shingle siding provides a distinctive charming look. The scalloped edges provide homeowners with flexibility to create the overall look they desire. The molded cedar texture and low-gloss finish mimics the appearance of authentic cedar shingles.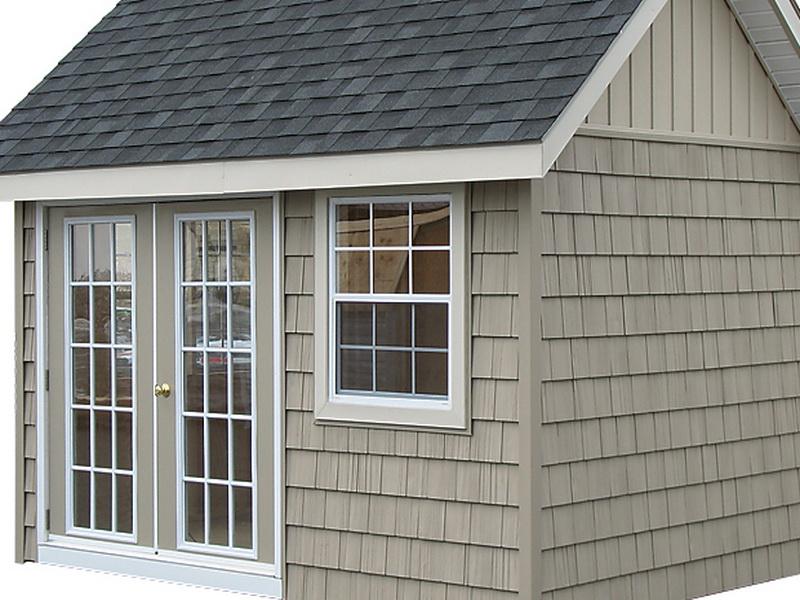 For homeowners who admire the look of cedar shingles, there are several factors to keep in mind when deciding between cedar or the vinyl equivalent. True cedar shingles may weather unevenly, and come with the potential high cost of maintenance or replacing damaged and missing pieces.
As a result, many now opt for siding that is engineered to look like natural cedar shake surfaces. Featuring rough textured surfaces, the vinyl products give homeowners desired look without the challenges of uneven weathering and expensive maintenance.
Shake siding systems are arranged vertically, making them stand out from other sidings. When opting for vinyl, homeowners can also choose from a wider range of color options.
Shakes come in several forms. Straight edge shakes align horizontally along their bottom edge. This style is also known as traditional edge. In contrast, hand-splint or staggered-edge shakes give the impression that each shingle is individually created and applied, providing an artisan look.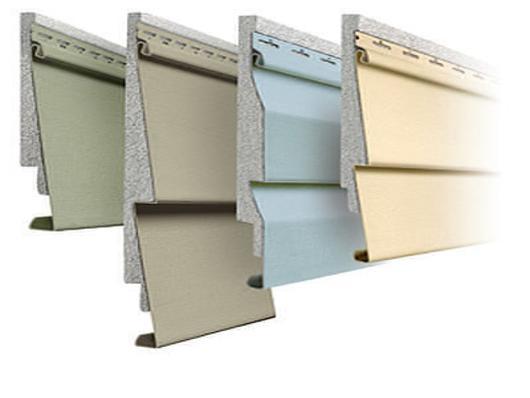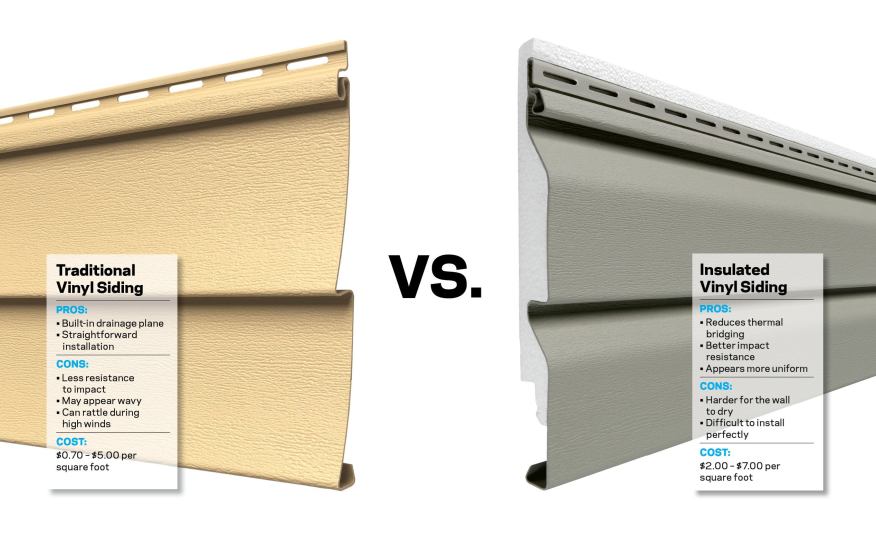 Insulated siding features a layer of expanded polystyrene foam (EPS) foam insulation, precisely fitted to the contours on the rear of the panel.
Insulation increases the insulating R-value of the wall to between 3.5 and 7.5, which reduces energy consumption. The insulation also enhances the stability and appearance of the siding by reducing the possibility of sagging, warping or shifting.
Opting for insulated siding comes at an additional cost, but this may be offset by the energy savings it provides over the years. This siding option is less vulnerable to defects caused by weather extremes. The majority of premium grade siding is available in insulated versions.
Insulated siding provides more resistance and durability than traditional vinyl. The foam backing gives the siding more rigidity, reducing the chance of denting, and providing straighter sight lines. As a result, it looks and performs more like wood than standard vinyl.
Many contractors report that insulated siding lays flatter, making it an appealing solution for irregular walls. The soundproofing ability of this siding makes it popular option for homeowners wishing to buffer outside noise.
[Poll] What Kind Do You Prefer?
Summary
If you are considering an exterior makeover for your home, start with a vision. Make a note of the things you want to accomplish, then review these with your contractor to help you achieve your end goal.
Once you have selected your favorite types, styles, colors, textures and thickness of vinyl siding, ask your contractor for his or her input. Siding contractors perform this type of on a regular basis. As a result, they may be able offer you some innovative design options and money-saving tips.
What to Read Next
8 Best Siding Options + Pros & Cons
Best Vinyl Siding Products & Brands
Over to You
We're interested to know – what style are you leaning towards and why? Let us know by leaving a comment below!